1. Microwave mug brownies with chocolate chunks
As if the idea of a gooey, rich chocolate brownie wasn't enough of a treat, we're lucky enough to live in a world where brownies that involve chocolate chunks as well exist! To top that off, you don't have to wait until you have an excuse to make an entire tray of brownies to enjoy this particular treat anymore thanks to Number 2 Pencil. You can just make yourself a quick chocolate chunk brownie mug!
2. Microwave berry cobbler
Have you been reading so far thinking about how you do love baked goods, but how your favorites don't quite fall into the same category as the cakes and cookies we've been talking about? Do you prefer fruit based treats like pies, tarts, and cobblers instead? Well, don't worry just yet because, thanks to Domestic Fits, you're still in luck! They guide you through the simple steps for making a delicious single serving strawberry cobbler in a mug. The best part of this recipe is that it only takes a few minutes to bake because you make it in the microwave!
3. Gooey chocolate cake cups
Were you intrigued by the chocolate brownie idea we showed you first but you've actually always preferred the texture and consistency of fluffy chocolate cake over the dense richness of actual brownies? Then we have a feeling you'd much prefer this delicious recipe from A Farm Girl's Dabbles instead!  Their rich chocolate mug cake is surprisingly moist, just like a properly baked cake.
4. Chocolate chip cookie in a cup
Were you always the friend who would get scolded for eating all the cookie dough before you could even get the cookies into the oven? Well, we can't say we blame you! This delicious recipe from Number 2 Pencil isn't for cookie dough like you used to eat, but we still think it'll hit the spot for you! They teach you how to make a very quick cookie mix in a mug and bake it in the microwave or the oven to give yourself a miniature cake that tastes just like a regular chocolate chip cookie.
5. Chocolate Fudge S'more cake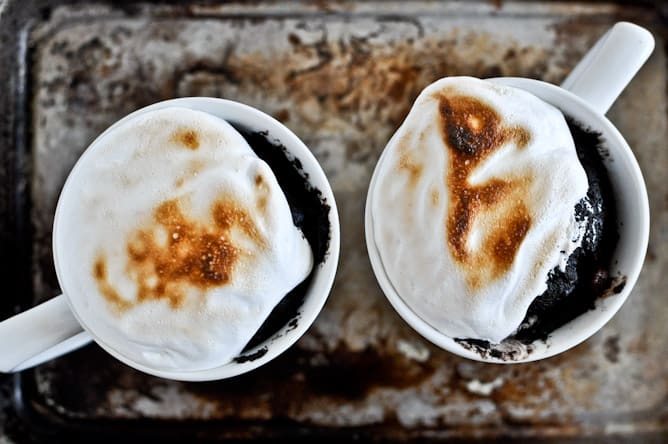 Do you love the idea of making yourself a single serving chocolate cake but you're the kind of treat lover who can't resist packing all the flavor you can get in one snack or picking the most gourmet taste option you can get your hands on? In that case, this delicious chocolate fudge s'more cake made in a mug is definitely the best option for you! Find out how it's made in detail on How Sweet It Is.
6. Chocolate peanut butter mug cake
Ever since we were little kids our absolute favorite recipes have always been the ones that involve peanut butter. We know not everyone in our family or friend group can eat peanut butter, however, so the idea of making a single serving peanut butter cake for just ourselves is hugely appealing to us! That's why we were so excited when we found this mouth-watering recipe from Chocolate Covered Katie.
7. Minute microwave cheesecake
We've been talking a lot about cakes on this list so far, but there are just so many kindsof cake that we can't help but branch out from sponge cakes even though they're so popular! Did you know that you can also make single service cheesecakes in the microwave, just like the other baked cakes we've shown you? We've actually tried this delicious (and super quick to make) blueberry cheesecake recipe from Your Lighter Side several times, and we're equally satisfied each and every time!
8. Peanut butter cookie in a cup
We've talked about peanut butter cakes and we've talked about mug cookies, but what if you'd rather combine those two things into one? Then you're going to adore this delicious peanut butter cookie in a cup recipe from Number 2 Pencil! It's surprisingly quick and easy to make but will certainly satisfy your peanut butter craving in a deliciously sweet way.
9. Cinnamon roll mug cake
Because we're so obsessed with baking, we find ourselves following and trying out baking trends as they come and go, just so we can try as many new things as we can. Lately, we've been trying our hand at combination recipes, like deserts that taste like other desserts. You can imagine, then, how excited we were when we found a scrupulous little mug cake that tastes like a cinnamon roll! Find out how the whole delicious idea is made on Cooking Classy. We tried this one and it was so good that we ate the whole thing up in about three bites.
10. Almond cake for one
Do you love sponge cakes like we do but your favourite kinds aren't actually the classic chocolate and vanilla that you've seen so much of on our list so far? Then here's one for you that's a little bit different! This sweet little cake is an almond cake, so it's got a little bit of extra flavour. Try sprinkling chocolate chips or sprinkles on top, just like Crazy for Crust did here!
11. Strawberries and cream mug cake
Are you still thinking about the idea of making mug treats with fruit but you're not sure cobbler is quite what you're craving? Well, if the fruit you've got ready to go in your fridge is a pack of strawberries, then you're in for a delicious snack thanks to The Naptime Chef! They show you how to make a simple, creamy tasting vanilla sponge cake in a mug, topping it with strawberries and whipped cream to your heart's content.
12. Chocolate espresso mug cake
Perhaps you've been thinking about the original chocolate sponge cake recipe we showed you, but you're a huge coffee lover and you've been wishing, as you scrolled, that it involved just a little bit of espresso flavour? Then we've found precisely what you're looking for and Kurry Leaves is here to tell you how it's done! Their recipe helps you balance both tastes exactly so that neither the chocolate nor the espresso overtakes the other.
13. Red velvet cookie in a cup
Remember when we were talking about baking trends and how we loved to try them out? Well, red velvet cake and cupcakes certainly had their time in the sun recently and we just about ate ourselves silly trying all of the different red velvet recipes that resulted from that popularity, but here's one we'd never seen before and can't wait to try (possibly the moment we're done with this list)! Number 2 Pencil teaches you how to make not just a red velvet cookie, but a red velvet cookie in a mug so you can enjoy it almost immediately once the fancy for it strike you.
14. Biscoff minute mug cake
If you've never tried Biscoff before, we're sorry to tell you that you've been missing out! Often actually used to make biscuits and cookies, Something Swanky is here to remind you that it can actually make a totally delicious sponge cake as well, especially if you top it with a simple sugar drizzle icing. The best part is that their recipe is another quick mug treat for your recipe arsenal!
15. Cookies n' Cream mug cake
Are you still thinking about the novelty gourmet cakes you love and wishing you knew more of those because, even though we showed you a S'mores mug cake, marshmallow based treats have never really been your favourite? In that case, perhaps you'd prefer this Oreos mug cake instead! Besides having an extra chocolatey sponge cake aspect, this recipe from Kirbie's Cravings shows you how to make a delicious Oreos n' cream icing to put on top.
16. Oatmeal crunch cookie in a mug
Are you totally in love with the mug cookie idea but you're just not as into these very sweet, very rich flavors as we are, so you've been scrolling and hoping for a recipe that's a little bit different? Well, if crunchy, textured cookies chock full of many delicious ingredients are more your style than gooey, sugary ones, then we have a feeling you'll be much more satisfied trying out this sumptuous oatmeal crunch mug cookie from 504 Main.
Do you have another favorite mug cookie or cake recipe that you adore whipping up for yourself after a long day but that you don't see on our list? Tell us all about it or link us to the recipe in the comments section!