Step One: Exfoliate
A sugar scrub will gently slough off old skin cells to reveal your soft and smooth feet. This DIY essential oil-infused scrub smells great and will transform your feet.
Sugar Scrub
In a small bowl, mix V-6 oil with essential oils. Add mixture to raw sugar in a larger bowl and combine thoroughly. Store in an airtight jar.
When applying in the bath, you may want to use a pumice stone to speed up the exfoliation process; however, avoid scrubbing your calluses raw or removing them altogether.
          HINT: Use about a tablespoon for each foot. Be careful: The scrub can make your shower slippery!
Step Two: Cuticle Care
After a shower or bath, gently push your cuticles back in preparation for a DIY cuticle treatment. You can use a pedicure tool or a towel.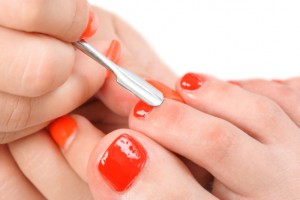 Cuticle Treatment
Fill an empty 15-ml bottle about halfway with V-6. Add 20 drops of Tea Tree oil, and then continue to add more V-6 until the bottle is full. To use, add 1 drop to your cuticles and rub in until absorbed.
          HINT: Use an AromaGlide™ Roller Fitment on the top of your 15-ml bottle to make application of this treatment quick and easy.
Step Three: Moisturize