It's PUMPKIN season.  Yippee!!!
Take pumpkin puree and add the heady, warm flavors of pumpkin pie to the mix, and you have a delicious batter; spread it out in a pan and then swirl in a generous dose of what is essentially cream cheese frosting, and you have a near-unbeatable treat.
Tender, tangy, and moist (sorry if that word makes you shudder, but it's an apt descriptor), these squares straddle the line between bar cookie and snacking cake.
Perfect for the Fall season, these three-bite nibbles would be a wonderful addition to a bake sale, an excellent extra to that mailed care package for a friend, or a fitting finish to a casual autumnal dinner. Or, if you're feeling a bit indulgent, a great stand-in for your morning muffin.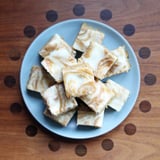 INGREDIENTS
6 tablespoons unsalted butter, melted and cooled, plus more for greasing the pan
1 3/4 cups (12 1/4 ounces) granulated sugar, divided
3 large eggs, divided
1 cup canned pumpkin puree
1 3/4 cups (8 3/4 ounces) all-purpose flour
1/2 teaspoon kosher salt
1 1/2 teaspoons ground cinnamon
1 teaspoon baking soda
1/2 teaspoon baking powder
1/2 teaspoon ground nutmeg
1 package (8 ounces) cream cheese, at room temperature
DIRECTIONS
Preheat the oven to 350°F. Butter and flour a 13-by-9-inch casserole dish.
In a large mixing bowl, whisk together the butter and 1 1/2 cups sugar until smooth. Whisk in 2 eggs, pumpkin, and 1/3 cup water until well blended. In another mixing bowl, whisk together the flour, salt, cinnamon, baking soda, baking powder, and nutmeg. Fold into the butter mixture until no streaks of flour remain. Spread batter evenly in the prepared casserole dish.
In a bowl, with an electric mixer on medium speed, beat cream cheese, remaining egg, and remaining 1/4 cup sugar until smooth.
Drop cream cheese mixture in evenly spaced 1-tablespoon dollops over the batter. Use a butter knife to swirl the batter, gently folding some of the cream cheese mixture under the pumpkin batter.
Bake until the center of pumpkin batter (not the cream cheese mixture) springs back when touched, about 30 to 32 minutes. Let cool completely in pan, and then cut into 20 bars.
Yield 20 (2-1/4-inch) bar cookies