Considered to be exotic and romantic, Jasmine supports the skin's appearance and is used in several Young Living personal care products. The sweet, floral aroma of Jasmine relaxes the mind and boosts self-confidence.
**Jasmine is an absolute or essence, rather than an essential oil.
EarthKosher Certified
---
How to Use
Topical: Apply 2-4 drops directly to desired area. Dilution not required, except for the most sensitive skin. Use as needed.
Aromatic: Diffuse up to 1 hour three times daily.
Caution: Keep out of reach of children. If pregnant, nursing, taking medication, or have a medical condition, consult a healthcare practioner prior to use.
Storage: Keep in a cool dark place.
Ingredients
Young Living Therapeutic Grade™ jasmine absolute oil(Jasminum officinale)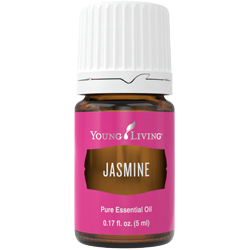 Use For:
Benefits of Jasmine Absolute Oil
Jasmine absolute oil is known to be an effective aphrodisiac with seductive qualities. It may help address sexual problems like premature ejaculation and impotence. When used by lovers, it's believed to help release strong sexual energies and  stimulate sexual chakra. It also works great when used during yoga.3
The essential oil contains carminative, emmenagogue, expectorant, analgesic, anti-inflammatory and tonic agents. Other benefits of jasmine absolute oil include:4
•Rejuvenates skin. It can help in treating dry or dehydrated skin, eczema and dermatitis. However, it should not be applied to open wounds as it can cause skin irritation or allergic reaction.
•Relieves menstrual problems and labor pains. Jasmine absolute oil may help relieve pain during menstruation, and may assist in regulating a woman's menstrual cycle. It may also be beneficial during childbirth because it is reported to strengthen contractions and promote breast milk flow.5
•Works as an antiseptic. The benzaldehyde, benzoic acid and benzyl benzoate in this essential oil have antiviral and germicidal properties. It may prevent infections when applied to wounds.
•Treats spasms. It aids in alleviating spasmodic cough, stomach cramps and spasms in other body parts.
•Mind relaxation. The oil can improve your state of mind by inducing confidence, optimism and euphoria. It helps banish fear, guilt and stress.6 The aroma of the oil may help relax and uplift the spirit.7
Pure, Therapeutic Grade Essential Oils